24th South Downs Beer & Cider Festival 2022
Friday 17 – Saturday 18 June 2022
BEER & CIDER LIST
The current Beer & Cider List is available here:
SDBF 2022 Current Beer & Cider List
TICKETS UPDATE
Physical Tickets are now available from Mail Order, Harvey's Shop, Brewers Arms and Gardener's Arms in Lewes.
On-Line Tickets - Additional Tickets now available for the Friday AM, Friday PM and Saturday sessions
More may be released dependant upon sales of physical tickets.
INTRODUCTION
Welcome to the 24th CAMRA South Downs Beer & Cider Festival, at the Corn Exchange. We hope you enjoy your session with us, the team have sought out 80 beers together with a selection of real ciders, perries and specialty ciders (cider with additional fruit!). Also, for the first time, we will have some great keg beers from our local breweries.
If you are new to CAMRA we are not just about promoting real ale and cider but campaigning for consumer rights; be this keeping pubs open as these are the best place to drink real ale and cider; but also on taxation, which affects the price of your drink.
TICKET DETAILS
See poster below for Sessions, Ticket Prices and availability at outlets, by Mail Order and On-line; QR Code below goes direct to the on-line purchasing site
Online Tickets available here SDBF 2022 Online Tickets
CAMRA MEMBERSHIP STAND
This is in the main hall. The staff will be happy to explain the many benefits of CAMRA membership; and will be even happier to sign you up!
If you are already a member or join on the day, this is where you can pick up your £2 worth of tokens on production of a valid membership card.
CAMRA and other Merchandise, bottled water, crisps, nuts and other snacks can also be purchased here for cash only, Tokens will not be accepted.
CATERING
Food, including vegetarian, vegan and gluten free options will be available in the Main Hall Hot and cold drinks, including tea and coffee will also be available.
No tokens, please, only cash will be accepted here.
A separate queue may be in operation for our volunteer staff. This enables them to get back to the bar to serve you. Thanks for your cooperation and understanding.
TOKENS
Beer, Cider and Perry can only be purchased using tokens; Tokens sheets can be purchased at the Tokens area next to the Glasses.
Unused tokens can be refunded for cash up until "TIME" is called at the end of each Session.
PAYMENT
Payments for tokens may be made by cash or using Debit/Credit Cards, either contactless or by chip and PIN, up to a limit of £30; payment for all other items is by cash.
FACILITIES
Disabled toilets; the toilets adjacent to the entrance hall are accessible.
PLEASE NOTE THAT NO-ONE UNDER THE AGE OF 18 IS PERMITTED; THIS INCLUDES BABIES AND YOUNG CHILDREN.
DOGS WILL ONLY BE ALLOWED IF KEPT QUIET AND ON A LEAD AT ALL TIMES
FESTIVAL CHARITY
We are proud to have as our festival charity this year the St Peter & St James Hospice. (for more on our festival charity see Home - St Peter & St James Hospice or talk to their volunteers at the stand located on the way into the Main Hall)
The easiest way to give is to place any unused tokens in the collecting box near the exit; we will remit the value of these donations in full to St Peter & St James, or you can choose the traditional way with donations in collection boxes
STAFFING
The Staffing form for Volunteers is available for download in the Members' Area
FESTIVAL POSTER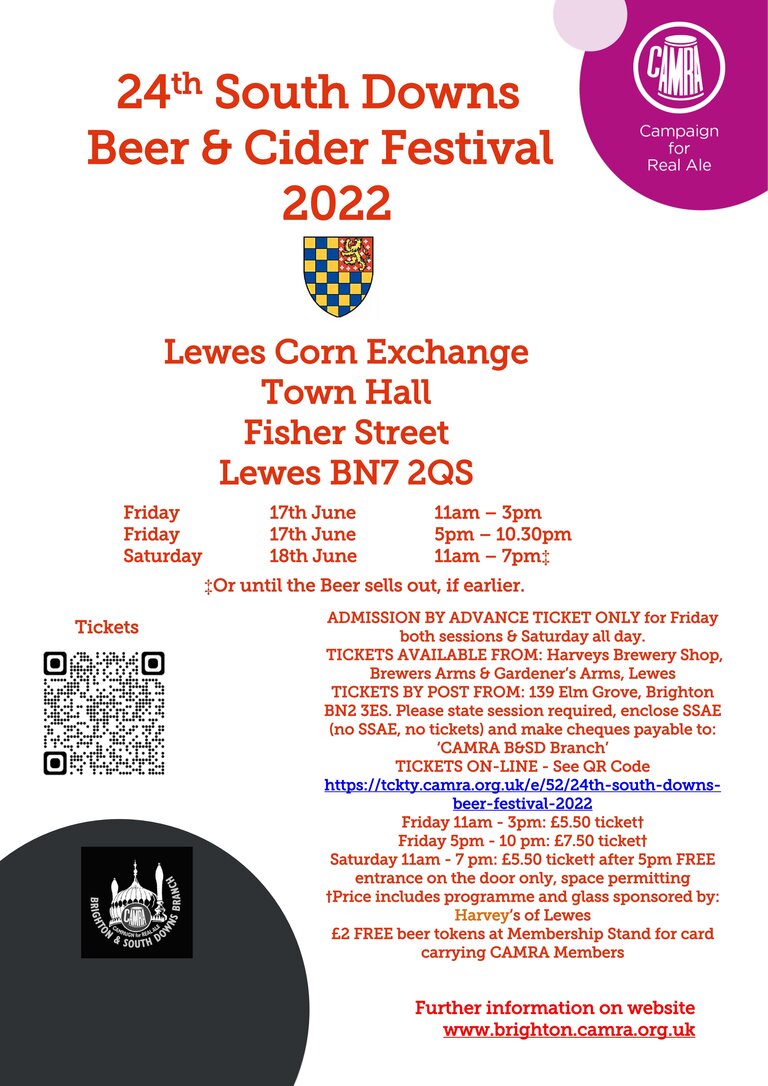 ON-LINE TICKETS CODE