Beer Walks
This trail was devised for CAMRA's Members' Weekend, AGM & Conference, Eastbourne 2022
Nine of the best Lewes pubs are listed, all within walking distance of the station
Four trains an hour connect Eastbourne and Lewes, with journey times from 20 minutes
From Brighton, six an hour, taking from 16 minutes
Brighton & Hove bus 28/29 from Brighton, up to one every ten minutes, takes around 30 minutes
Eastbourne Station departures
Click on the links to open each pub's WhatPub page, where you can find further details, Google maps and precise satnav coordinates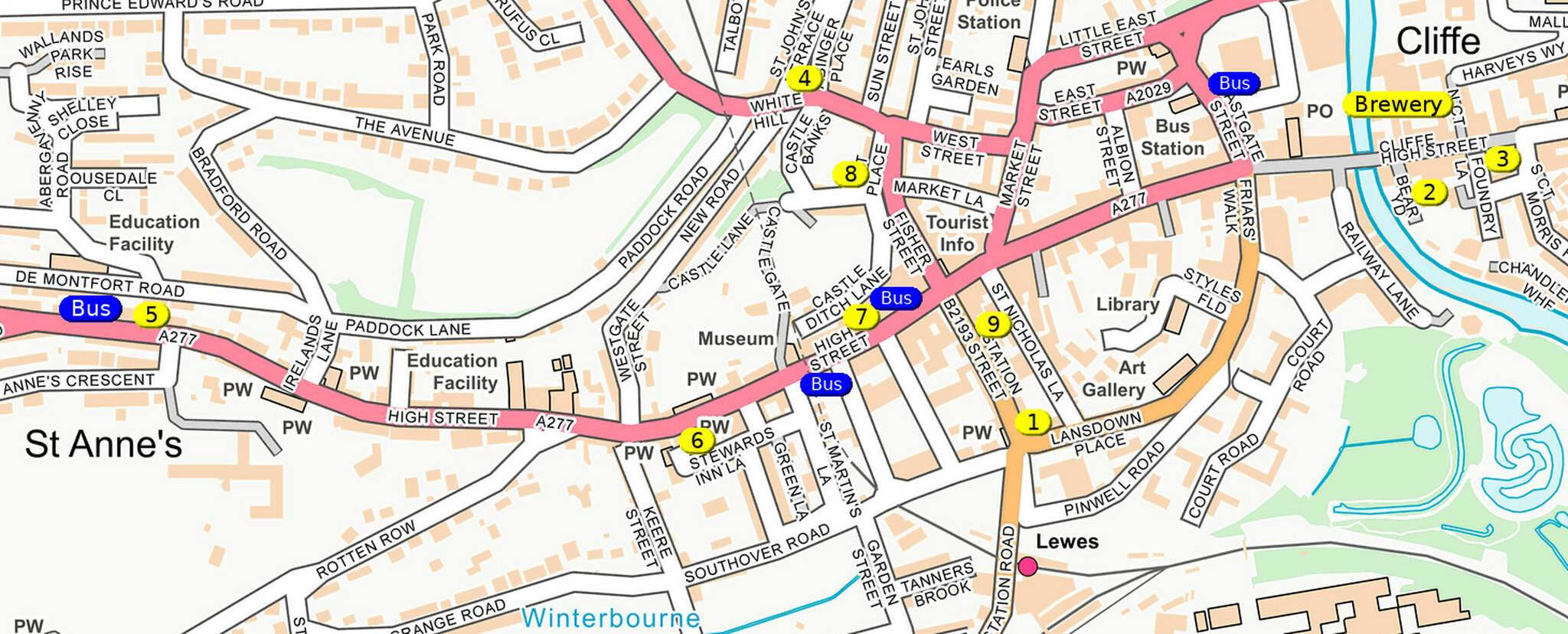 Contains OS data © Crown copyright and database right 2022
① Lansdown Arms 36 Lansdown Place, BN7 2JU Ⓕ
You'll usually find Timothy Taylor Landlord and Gun Extra Pale (vegan). Limited outside seating, popular on match days
② John Harvey Tavern 1 Bear Yard, Cliffe High Street, BN7 2AN Ⓕ
Harvey's tap room opposite the brewery. Harvey's seasonals available, some beers gravity dispensed. Large seating area upstairs with outside seating all year
③ Gardener's Arms 46 Cliffe High Street, BN7 2AN Ⓒ
Small pub popular with CAMRA members. Always at least one dark beer, real ciders too. Outside seats in summer
④ Elephant & Castle White Hill, BN7 2DJ Ⓕ
The pool table and TVs don't spoil this excellent locals' pub with guest ales
⑤ Black Horse Inn 55 Western Road, BN7 1RS Ⓕ Ⓒ
Greene King pub with an excellent selection of (non-GK) Sussex ales. Exactly on the Greenwich meridian!
⑥ Brewers Arms 91 High Street, BN7 1XN Ⓕ Ⓒ
Free house with regional brews, local brews and real cider. Busy back bar when sports on TV, front bar always civilised. Outside seating at the rear
⑦ Rights of Man 179 High Street, BN7 1YE Ⓕ
Harvey's showcase pub with retro-fitted partitioned interior. Frequented by tourists, the prices reflect this. Outdoor space on terrace at rear of pub
⑧ Lewes Arms 1 Mount Place, BN7 1YH Ⓕ
Famous Lewes pub, now owned by Fuller's but serving Harvey's Sussex Best all year. Positioned next to the old castle walls ditch, where the world pea throwing contest is an annual event
⑨ Royal Oak 3 Station Street, BN7 2DA Ⓕ
Greene King pub offering two other guest ales, usually including St Austell Tribute. Outside space in courtyard at rear of pub. A convenient stop on the return to the station
Ⓕ - Food served       Ⓒ - Real Cider
Suggested order if travelling by Brighton & Hove bus - start at the Black Horse:
(Black Horse bus stop) 5 – 6 – 7 – 8 – 4 – 3 – 2 – 1 – 9 (High Street adj Law Courts bus stop)
To shorten the walk, omit ⑤, the Black Horse
Members' Weekend Travel and useful information (not available yet)
Central Eastbourne pubs (Not available yet)
Sussex branches very much appreciate local and visiting members rating the beers and real ciders they sample. Scores can be recorded on the Good Beer Guide app, WhatPub or Pubzilla. CAMRA's beer-scoring system helps us select pubs for the Good Beer Guide and other awards
THE 6th ADUR VALLEY BEER WALK, around the Steyning, Bramber & Upper Beeding area (between Adur and Riverside Breweries) is planed for Saturday 11th June 2022. This is the weekend after Glastonwick and before South Downs (Lewes) Beer Festivals. More info on this website later.